What is Easy Forms? ¶
Easy Forms is a web application that will help you design and develop web forms quickly and easily. Actually, you will not need programming skills to make your forms work in minutes.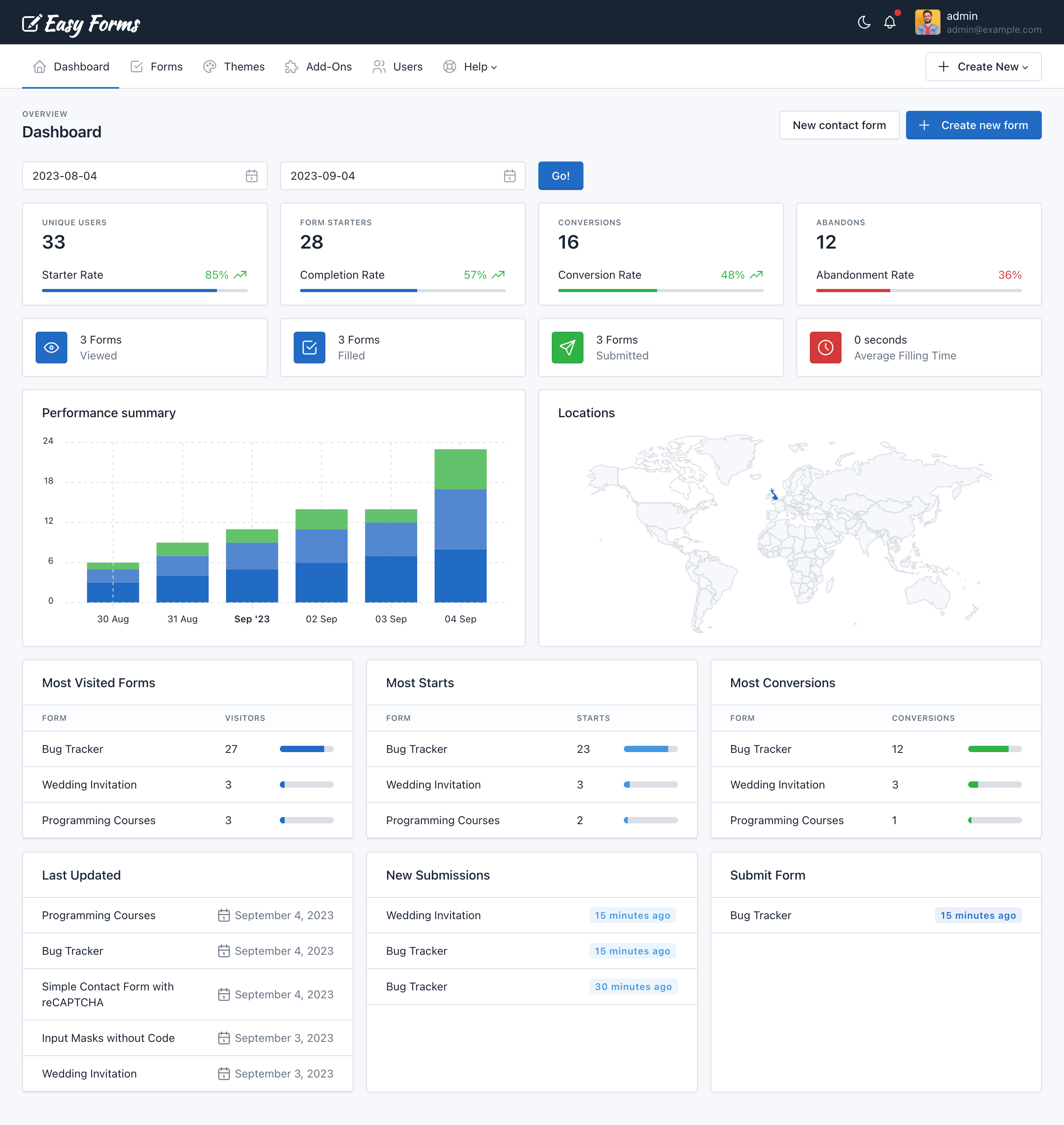 Why choose Easy Forms? ¶
The first major difference from most existing web applications on the market is that you can download and install Easy Forms on your own server and, therefore, may:
Create as many forms as you want, without paying a monthly fee for service usage.
Protect the privacy of your data, because they will not be share with the company providing the service.
Have full access and control over your data. They will always be in your server.
What difference Easy Forms from other applications that can be installed on my server? ¶
If you have decided on an application that you can install on your server, you must consider not only the functionality, but also how it is developed, because sooner or later you may need to make changes or suit it to certain requirements. With this in mind and unlike most of its competition, Easy Forms:
Features have been designed, developed and optimized in form management. Easy Forms is not a plugin that overload your server, is an entire application focused on forms management.
With a readable and easy to customize code. Unlike most similar applications, Easy Forms is developed on Object-Oriented PHP and well documented.
Is developed to meet the Yii2 standards, a high-performance PHP Framework with extensive documentation and an active community.
You will be able to add new features or customize existing functionality very quickly.
What can I do with Easy Forms? ¶
Easy Forms is an application that lets you create and manage all types of web forms. With Easy Forms:
You can create Contact Forms, Surveys, Registration Forms, Online Invitations, Multi-page Forms and more without programming.
You can receive files through your forms, even in your email.
You can create conditional rules to make your forms even more dynamic, without writing a line of code.
You can perform math operations such as calculate taxes or prices.
You can customize the application quickly. Changing the logo is as simple as re-write.
You can post your forms anywhere, including CMS like Wordpress, Drupal, Joomla and of course, HTML static sites.
You can receive emails informing when a user has sent your form.
You can manage the data sent by your users and create reports with them.
And much more.
Requirements ¶
Easy Forms requires PHP 5.6.0 or later. You can find more information on the system requirements documentation.